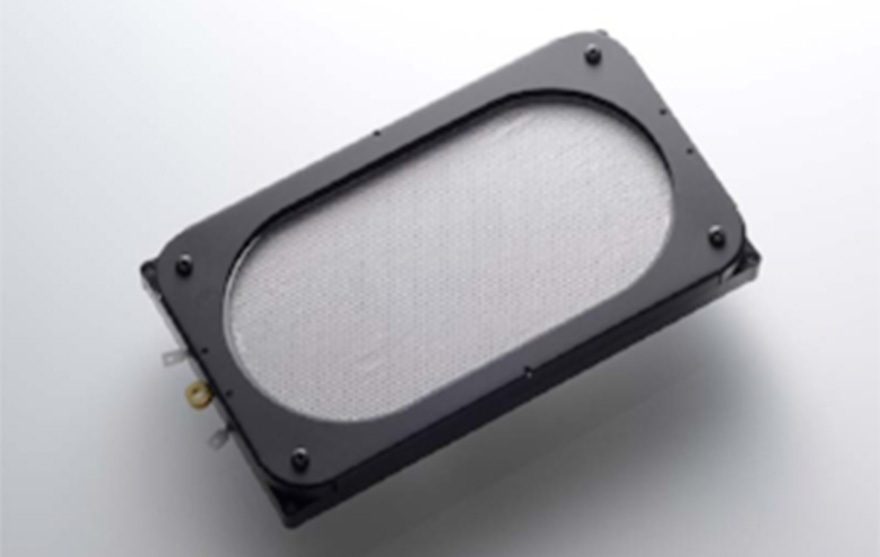 TOP QUALITY SOUND ELEMENT
Hand selected thin-film diaphragm as well as tough stainless fixed electrodes has been employed for the SR-L500. Thus, rich deep bass response, delicate high frequency and soothing mid-range has been achieved in a balanced manner.
10-CLICK TYPE HEADBAND ASSEMBLY
The headband (ARC) assembly of the SR-L500 is equipped with 10-click slider mechanism for head pad height adjustment adopted from SR-009 and SR-507. Once adjusted, the slider always maintains its optimal position to make readjustment unnecessary. This enables you to enjoy hours of pleasant music listening with utmost comfort.
NEW LOW CAPACITANCE HiFC WIDE CABLE
High performance pure copper HiFC™ developed by Hitachi employs the core wires. HiFC has various advantages, including similar sonic characteristics as used in SR-009 and SR-L500 6N high purity 99.99999% copper wires. The entire cable are then arranged in a flat, wide format configuration to lower the capacitance between each wires and finished with the most suitable structure to drive the earspeaker.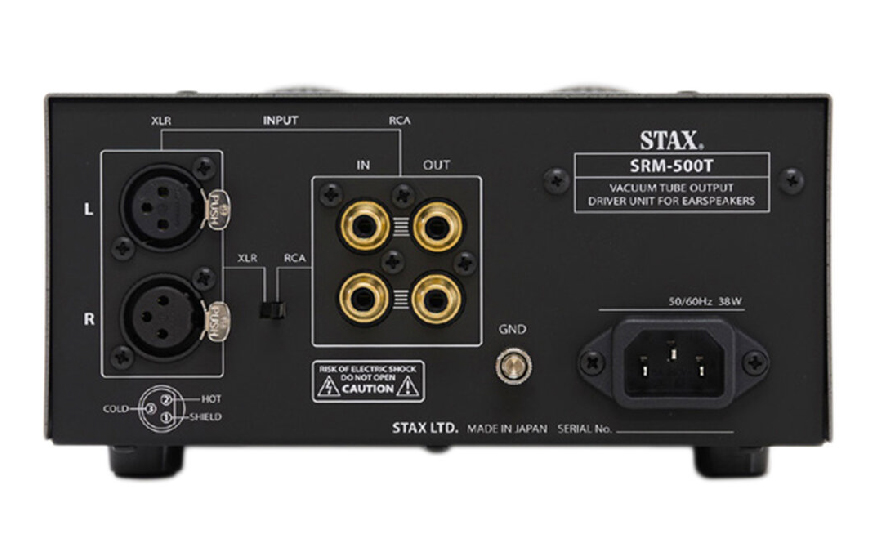 The newly designed power transformer
The newly designed power transformer enables power efficiency. As a result, it achieves an improved sound quality than the conventional vacuum tube output driver unit found in SRM-006tS.
SPECIFICATION
Type
Push-Pull Open Back Oval Electrostatic Earspeaker Headphone
Frequency Response
7 - 41,000Hz
Electrostatic Capacitance
110pF (including cable)
Impedance
45k Ω (including cable, at 10kHz)
Sound Pressure Sensitivity
01dB / 100V r.m.s. 1 kHz
Maximum Sound Pressure
118dB / 400Hz
Weight
0.75lb without cable / 1lb with cable
Ear Pads
High quality synthetic leather
Cable
HiFC parallel 6-strand, low-capacity special wide copper cable, 2.5m full length
SPECIFICATION
Type
FET input + vacuum tube output hybrid DC amplification driver unit
Frequency response
DC - 90kHz (with one SR-L500 MK2)
Harmonic distortion
0.01% or less (1kHz/100Vrms output)
Input impedance
50kΩ (RCA), 50kΩx 2 (XLR)
Maximum output voltage
300Vrms (1kHz)
Operating temperature / humidity
0 to 35 degrees C / less than 90% (non condensing)
Input terminal
RCA x 1, XLR x 1(mutual exclusion input)
Output
RCA parallel output
Dimension
195 (W) x 102 (H) x 376 (D) mm (maximum protruding portion included)
Made in Japan